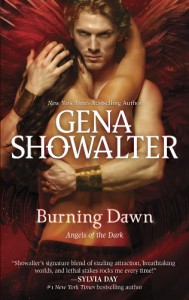 Gena Showalter is amazeballs! Burning Dawn is Thane's book. We met Thane in Wicked Nights (the first in the Angels of the Dark series) and were left wondering if we would ever find out more about him. This book starts out at a Phoenix camp where Thane had been taken prisoner by a wicked princess named Kendra. She did vile things to him and kept her under her horrifying spell. Elin Vale was also a prisoner of the camp and came up with a plan to get her and Thane out. What she didn't expect was the gratitude and rollercoaster ride that she would endure after their freedom. Thane is the owner of a club called Downfall and he hires Elin on to be a server. During her employment he woo's her (unsuccessfully most times) and they begin the oh so wonderful game of courtship Ms. Showalter is famous for.
I LOVED this book. I loved Thane, I loved Elin, I loved the other angels, I loved Elin's roommates, I especially loved Adrian (fingers crossed for a book for him), and I loved how some of my favorite characters from the Lords of the Underworld series got intertwined into the plot line. Usually it is hard for me to really love a female lead that is mourning over the death of her husband, but it was done with such finesse in this book that I couldn't help but really like Elin. She is strong and determined and tries so hard to keep her heart guarded from Thane, but he busts down that wall like the admirable male she falls in love with. One of my favorite quotes:
.
"We will be friends and lovers, and that's final."
Yes sir! You don't have to tell me twice!
I recommend this book to anyone that is a seasoned Gena Showalter fan. I suggest that if this is your first time picking up something she has written to start from the first book of the Angels of the Dark series Wicked Nights. It sets up the world and the background for the people you meet throughout this book. I also suggest reading this after you read the Lords of the Underworld series, but you could get away without.